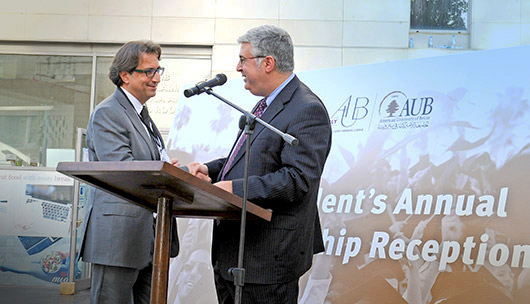 The 2017 scholarship reception took place on Thursday, April 27, in the Suliman S. Olayan School of Business courtyard. More than 40 donors and around 120 scholarship recipients gathered with members of the AUB Board of Trustees and staff, where students got the chance to meet the philanthropists who contribute to their education.
During the ceremony, President Fadlo Khuri emphasized the importance of philanthropy in shaping local communities and beyond.
"The generosity that you [donors] provide year-in, year-out, allows us to help the best and brightest students," said President Khuri.
"To our students, our expectations of you are enormous; you will grow up to be leaders of tomorrow's society, you will understand that fear of the other is an obstacle and not an asset, you will understand that every human being has great value," added Dr. Khuri.
Last year was one of the most significant years in terms of giving to AUB, where over $30 million were raised for financial aid, from which more than 3,200 students benefited.
Alumnus and major supporter Mr. Ousama Fansa (BEN '86) was guest speaker at the reception. He addressed the students and donors, sharing his journey from AUB student to chief executive officer and director of Roots Group Arabia.
"Donations and scholarships for deserving students who are short of funds are a way to give back to your Alma Mater – and also to help someone get a quality education and a strong chance for a good future," said Fansa.
Three students, all scholarship recipients, shared their heartfelt words with the audience.
Shaymaa Sharani, majoring in Elementary Education and minoring in Arabic, is the recipient of the family of Kharieddine El Jisr Scholarship. Sharani thanked the donors and expressed how much she cherished the life-changing opportunity she' was given when she received a scholarship to study at AUB.
Speaking next was Haruna Hassan, who is in his third year of Political Studies and is the recipient of the Said Khalaf Scholarship.
"Dear donors, I share your understanding that the most transcendent gift one can receive is education, it opens doors and opportunities," said Hassan. "I am fortunate to be a recipient of such a gift."
Sevana Serraf, second year student majoring in Mechanical engineering and recipient of the Phillippe Jabre scholarship and the Cleavland H. Dodge Foundation Scholarship, was the third to share her heartfelt words.
"It is too much of a blessing to be exploring life while having a donor say: I got your back," said Sarraf. "You not only granted us a university education, but you also granted us a beautiful home! An eco-friendly home, with all these sea views, these trees, these cats…cats that never leave us alone while eating our lunch. What more could we ask for?"
The donors and the students spent the rest of the evening networking and exchanging conversations.